One Week of fishing in paradise.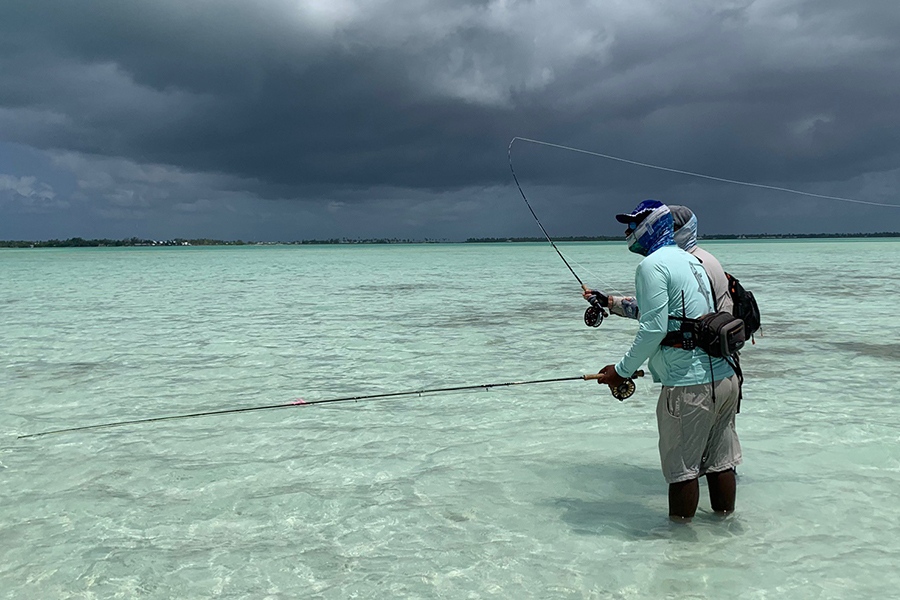 Tie 'n' Fly Outfitters in partnership with Christmas Island Outfitters.
We are now taking bookings for our 2022 CXI season escorted and unescorted trips.
If you would like to fish with the best and most experienced guides on the island, after all we all go to Kiritimati Island to fish, please consider booking with us.  You have the choice of a hosted or non-hosted trip.  We do two hosted trips a year, the rest of our weeks are non-hosted, we take bookings for June, July and August.
Bookings are currently being taken for June July August and September 2022. Please note the expectation of the Kiribati Government is all visitors will be fully vaccinated for the Covid-19 virus to protect the islanders and their very fragile health services. 
Species:  Bonefish, three species of trevally (including GT, Blue Fin and Golden Trevally), Barracuda, Wahoo, Tuna, three species of Trigger Fish (Yellow Margin, Picasso and Titan)
​The fact that virtually every flats fishing angler in the world has heard of Kiritimati (pronounced Christmas) Island is far from coincidence. Amidst the vast inventory of the world's saltwater flats destinations, Kiritimati Island is a unique and natural masterpiece that magically combines all the elements critical to fly fishing success. Endless hard sand flats fishing, remarkable numbers of cruising bonefish and trevally, and consistent year-round weather await all who visit this unique atoll. Kiritimati Island is part of Kiribati and is within a group of islands known as the Line Islands, it is the largest of all the Kiribati Islands.
Gear recommendations – we provide our anglers with a full gear list and advice including fly selction and fly lines, we can also fully outfit for this trip,  at a discount for anglers coimng on our trips.
Our Fishing Guides are the reason to book with Tie'n' Fly Outfitters
We proudly follow Bita Kairaoi's Kiritimati Island Guiding service. Bita himself was trained by the famous late Kiritimati Island Guide Moana T. Kofe.  Moana was reputed to be the greatest guide and the I-Kiribati 'godfather' of guiding he was an inspiration not only to his countrymen but also the international anglers who fished with him, a gentleman in the most literal sense of the word and one of the best flats guides to ever put on a pair of wading boots. He has trained Bita and his guides to be great guides, consummate gentleman and a pleasure to be with on the flats, they all speak excellent English and are each outstanding fly fisherman and fly tiers.  Our guides carry radios to communicate with each other and the boats.
ccommodation and Meals:
Christmas Island Outfitters is a small operation taking a maximum of twelve anglers per week. The lodge is located just north of London on a beautiful section of beach. Accommodations consist of six double occupancy guest rooms. Each room is configured to house two anglers and have a private bathroom. There are also two single rooms with private bathrooms. Rooms are very simple, relatively rustic but kept clean and features ample space for your gear. Air conditioning is not required to keep anglers comfortable, but all units do have A/C.
2022 Rates for 6.5 days fishing:
$3,150 Aus per person for a 7 night/6-day package (double occupancy)
$3,350 Aus per person for a 7 night/6-day package (private room)
$3,750 Aus per person for a 7 night/6-day package (private room and private guide)
Included: 
6.5 days guided fishing, accommodation, meals, day at the Back Country, where tides permit day at The Korean Wreck, four bottles of water per person per day, ground transportation on Kiritimati Island.
Not Included:  
All airfares, accommodations/meals/transfers in Brisbane & Fiji. Alcohol and soda, fishing license, staff and guide gratuities, departure taxes, laundry.
You will pay a $60 Australian for a fishing licence on arrival at CXI airport, we advise you have this ready when you are coming through customs at CXI.
The ladies at the lodge will do your laundry for you each day, you will pay for each item in your final weeks bill.